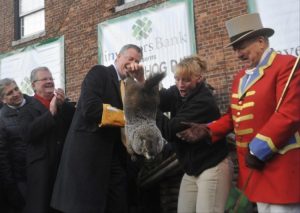 Groundhog Day. Shit, I almost forgot about that.
As if every day isn't already so impossibly like the last. As if pasty whites in ill-fitting clothes and bad hair don't already have too much to say. As if we need another six weeks of this nonsense, let alone four years.
Groundhog Day. That's all we need right now…
No one really understands Groundhog Day, and I don't see any good reason to start now. Yes, of course everyone knows that on February 2, an anointed Groundhog somewhere on the east coast emerges from his or her den and if he/she sees its shadow, then there's six more weeks of winter. This much we all 'know' the same way we 'learned' the Gettysburg Address and the Preamble.
But—you know—what does it mean?
First of all, what even is a groundhog? I doubt most people not from Punxsutawney, Pennsylvania could tell one apart from a Prarie Dog, Hedgehog or a common rat'sass Gopher. And why Punxsutawney (pronounced Punxsutawney) anyway? How did it come to pass that a stillwater no-doc 'town' of 6,000 in the middle of Pennsylvania (read: nowhere) got to be in-charge of the weather? After all, spring is important! There's a lot of fucking that goes on in spring that's of genuinely high consequence. Delaying or accelerating its arrival could mess with the natural rhythm of the season and throw us into a chaos we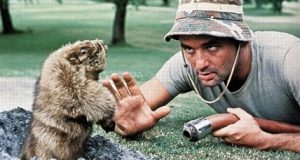 haven't seen since December 2000. I'm saying now that there'll be heck to pay come June if there's no kittens to euthanize or if the clematis doesn't bloom by Father's Day. Merely sayin'.
I've researched it and still don't hardly understand it. Near as I can tell, the six-week swing was a compromise between the Germans and the Scots because they favored different equinoxes– the Vernal or the Imbolc. So someone suggested they let a rodent decide. It is no less simpleheaded than a cointoss, but more civilized than a bloody Dark Ages war, when you think about it. Plus we got a good movie out of it, so at least we got that goin' for us. Gunga la Gunga…
The calendar. The seasons. The Court. What's any of it matter? March. Put a candle in the window at 7pm. Leave a voicemail for your legislator. The monied Christians are going to do what they've always done– what they want. It's the year 2017. Does that mean the world has only been alive for 2017 years? Of course not! It just means that the Christians set the clock like they set everything else. Everyone plays by this rule, even the majority of the world that doesn't believe in Jesus. It's 2017– it's not worth disputing. Can't hardly blame folks for picking a battle.
So we'll see what Punxsutawney Phil says tomorrow. I'm told he's a hell of a Groundhog. Tremendous Groundhog.