[sic]  very short stories by and for Jeff Braimes– 
October 2, 2014           

by Jeff Braimes (author)  196 pages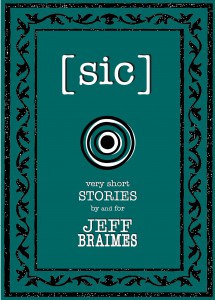 Only a few first edition copies of this presumptive volume of dreck remain in-stock. If you're not one of the author's 250 closest friends and don't already own one of these little red green hummers, you'd better act fast. Or not. The second edition will be out some time before the presidential election with a forward by Linus Labinski and the answers to the first edition's crossword. Plus all the fucking typos corrected, or at least some of them.
Order before midnight tonight and receive your choice of the scabs or beard of the author at no extra charge for the purpose of making your very own [sic] voodoo doll! Order between midnight and dawn and receive a stool or seed sample. Sometime tomorrow you get a ketchup packet. After that not sure.
"Surprisingly well-written" — Art Chantry, illustrator/trendmaker 
"I laughed out loud on the subway" — Tim Kreider, author (a real one)
"Because China" — Donald Trump, presidential hopeful/professional nincompoop 
$99.99   Send check, money order or meaningful barter equivalent to:
Rotator Press * 2610 Ellis Street * Bellingham, WA * 98225
All rights reserved. This book or any portion therof may not be reproduced in any manner whatsoever
without express written consent of the publisher
except in critical reviews or in furious oaths taken directly to the fucking roof.
Library of Congress Cataloguing-in-Publication Data: 2014909236
Briames, Jeff
[sic]  Very Short Stories by and for Jeff Braimes