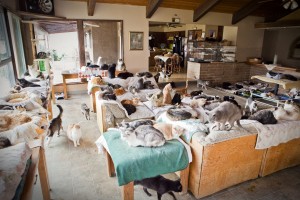 How many peeves are we allowed to keep as pets before they're just peeves? And what's the difference, anyway? Do Pet Peeves get to sleep on the bed with us while the general population shivers outside or in the garage? Are some peeves domesticated and others feral?
Pets of any variety are comforting. They love us unconditionally and are generally free of the bullshit hang-ups that render the relationships with our upright companions so frequently intolerable. Whether we keep dogs or cats or snakes or goats, many of us are more invested in our pets than we are in the seemingly more primary relationships in our lives including the ones we flog with our spouses, children and parents.
But where is the line? How much is too much—how many too many?
Every neighborhood has a "crazy cat lady." No one visits her because her furniture & cutlery is coated in a film of silky dander and the whole place smells hard of piss. Cat lady's house is usually too warm inside. The mewing is unnerving.
Robert Stroud was known as the Birdman of Alcatraz, despite the fact that he was not allowed to keep birds on The Rock. And although he did raise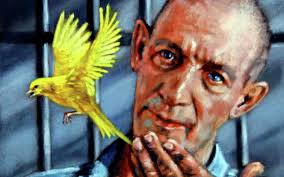 hundreds of canaries and author several well-respected books on Orthonology during a prior sentence at Leavenworth, the dude was evil & insane.  A poor model.
Plenty of dog owners not only dress their best friends in garish sweaters & hats, but often don complimentary or even matching outfits themselves. This is not OK. Not OK.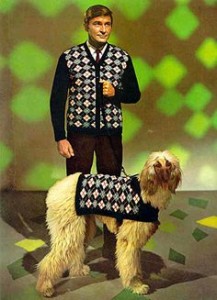 So who is to say how many peeves I can reasonably keep as pets? Is the peeve police going to come to my door? Are my neighbors going to turn me in? Should I be more careful about the kind of loose assertions I make on social media?
I don't much give a damn. We've all got our hangups, and sometimes it feels good to vent. So whether I have room in the kennel for all these peeves or not, I'm not sure. But here are a few of my favorite peeves, otherwise known as the kind of shit that just drives me crazy.
stuff all over the floor. Not too many things that aren't always on the floor belong there. Furniture and rugs go on the floor, and shoes can too. Towels, coats, pencils, guitar picks, cereal bowls, cellular telephones and eyeglasses do not
motorists yielding to jaywalkers. Stopping your car in traffic and encouraging someone to step off a curb is not the responsible or compassionate thing to do. It is the stupid-head thing to do. It puts you both in danger
when people don't talk good. Our language is deteriorating before our very ears. While the low expectations of the internet are certainly contributing to this regrettable trend, mis-use of words like irony & literally has been going on for years as well as any use of conversate, supposably or irregardless 
plus when people write bad. There/their/they're; too/to/two; your/you're; then/than; could have/could of; alot/a lot; than/then etc etc etc
"everything happens for a reason." This heavyweight challenger of all copouts is second in its numbing lameness only to the milky-eyed reference to "God's will." It's true that things happen for reasons. But those reasons are that someone drove drunk, got cancer, or didn't pay their taxes– not that a divine entity threw a lightening bolt like a javelin in order to facilitate hard personal growth or otherwise "test" someone to whom an unthinkable tragedy has occurred. Shit happens by cause-and-effect and raw chance, not because we have lessons to learn. We may learn them– but that's not why shit happens in the first place
cat turds in the houseplants
LOL
broken bottle of Michelob
That's about it. Pretty much everything else is fine with me.